Mitsubishi Electric's next generation dual package with 4.5 kV X-series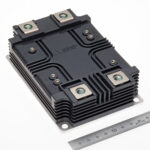 Power semiconductors are increasingly being utilized to efficiently convert electric power in order to lower the carbon footprint of global society, particularly in heavy industry, where these devices are used in power-conversion equipment such as inverters in railway traction systems and for DC power transmission.
For such application Mitsubishi Electric's high-voltage IGBT (HVIGBT) power modules offer high withstand voltage, high current density, and low loss characteristics. The main goal is to increase output power and efficiency of inverter systems.
Mitsubishi Electric is enhancing the next generation dual package X-series with the 4.5 kV HV100 module. It is characterized by a 24% higher current density compared to the conventional X-series package and a 12% higher output current.
Find out more details about the 4.5 kV HV100 module in our recent press release: https://www.meu-semiconductor.eu/wp-content/uploads/2023/04/0425.pdf
Also do not miss the oral presentation at the PCIM Europe conference about this "4.5 kV HV100-type HVIGBT Module for Large Industrial Equipment" on Wednesday, 10th, at 10:30 on stage "Brüssel 2".